In the recent years, the Assistive Technology industry in India has come alive, with a few passionate entrepreneurs building indigenous solutions at affordable costs for Persons with Disabilities.
NeoMotion is one among the well-known startups that is creating a buzz in the AT ecosystem for truly impacting the lives of thousands of users.
Hear from NeoMotion on what it takes to build life transformative products for AT users.
Resource Person:
Mr. Siddarth Daga, Co-Founder,
NeoMotion Assistive Solutions Private Limited
sdaga@neomotion.co.in
Focus Area Covered: The inspiring journey of developing NeoFly – Customised
wheelchair solutions and NeoBolt – Independent outdoor Mobility Aid.
3.2 Challenges and opportunities
The Assistive Technology sector in India is at a stage where there is a wide gap between the needs and the existing solutions. It is still considered as a component of the health care sector, but the potential of AT solutions and the growing user landscape proves otherwise.
Today, the role of AT is beyond healthcare and rehabilitation and is progressively entering the mainstream market, helping to reduce the stigma associated with disabilities.
Ageing is also an additional factor that brings with it the reinforced need to developmore high-quality Assistive Aids. Thus, the scope of opportunities for budding entrepreneurs is truly immense. 
Listen to the talk below to get a wider perspective on this.
Resource Person:
Dr.Sujatha Srinivasan,
Professor, Department of Mechanical Engineering
Head -TTK Center for Rehabilitation Research and Device Development(R2D2) IIT Madras
sujsree@iitm.ac.in
Focus Areas Covered:
Disability and Assistive Technology landscape and challenges in India.
Need for innovation in product development, distribution channels and business channels.
Opportunities for indigenous solutions.
Best Practices to adopt in awareness, product development and delivery.
Key Takeaways From Above Lecture
The increasing population with Disability streamlines the focus towards addressing the challenges of affordable health care -in terms of rehabilitation: Therapy and Assistive Technology.
Disability health care requires a team approach. Assistive Technology is not just about developing quality solutions but also ensuring that they are affordable, usable at Indian conditions, ensure user training, easy maintenance, acceptance and awareness of both user and health professionals about it.
The demand creation is possible only if the awareness level and the social stigma attached to Disability is addressed.
Another key to address affordability can also be through effective advocacy to include Assistive Technology in health insurance schemes, financial concessions and Government Policies.
Factors that restrict interest of industries and businesses from entering Assistive Technology sector are Customization and fragmented market- which leads to supply chain and inventory challenges.
Some of the opportunities to address the above said challenges discussed were:
Nurturing and strengthening the AT ecosystem.
➤Resource centres, to upskill designers towards Disability and User-centric approach.
➤ Experience and Training centres for user groups to support the choice, usage and troubleshooting of AT.
Fuelling innovation at every level, from product development to delivery.
➤ Assistive Technology innovation hubs could facilitate sharing of resources.
➤ Emphasize impact assessment.
Establish significant collaborations across Public, private and NGO sectors.
➤ To reform funding mechanisms.
Enabling start-ups in transforming the AT landscape.
➤Support start-ups in addressing need-demand challenges.
➤Accelerator organizations specific to the area of AT.
To expand general health care to Disability and Assistive Technology.
Reference Material on Understanding Indian Context in the area of Assistive Technology
3.3 Enablers of an efficient AT ecosystem
The AT ecosystem in India is still emerging. There are very few players in the domain, and they are working in silos. Commercial entities in AT are a handful. To tackle these challenges and give a boost to the AT ecosystem, some organizations have emerged in the last decade and have broadened the discourse around disability and AT. They are also helping accelerate the growth of AT start-upsby providing them assistance in terms of mentoring, networking, funding, R&D, and marketing thereby laying the path to scale-up and reach the millions of PwDs in need of AT.
Here's a recently held panel discussion between some AT enablers. Through this video, you will be introduced to the varied perspectives in the AT ecosystem and the immense opportunities to learn and solve long-pending problems for PwDs.
48-Min Recorded Discussion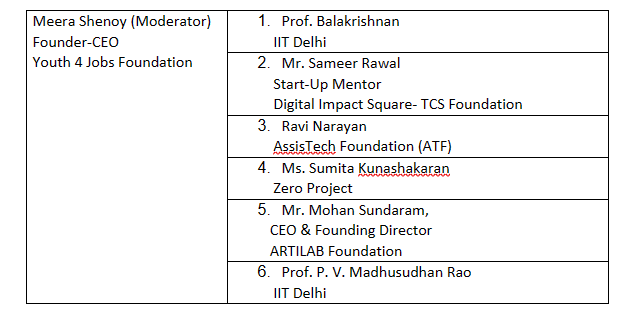 The evolution of the existing Assistive Technology ecosystem in India and the roles of the eminent stakeholders in the ecosystem:
1. Education institutions working on R&D in Assistive Technology.
2.User Organizations.
3. Initiatives working towards nurturing emerging start-ups and motivated
entrepreneurs.
4. Disability centered global approaches in acknowledging best practices.
Integrating the different dimensions in developing assistive technology: Medical,social, business, human-centred and technology.
Setting the goals from Awareness to Access.
3.4 Road towards making India a leader in Assistive Technology
India has a largepopulation of Persons with Disabilities in the world. India is also home to the largest youth population in the world. By creating awareness about the problems faced by PwDs and inspiring youngsters to solve these problems, we can strengthen the AT ecosystem.
The goal will be to develop the assistive technology solutions desired by PwDs and then aim to make sure that everyone who needs them has access to them. In ensuring that R&D and commercialization takes place, increasing production can close the gap in the needs.
Check out this short talk by Prof. Ashok Jhunjhunwala on his vision forIITMRP's 10X initiative of making India a leader in the worldin the domain of Assistive Technology.
12-Min-Recorded lecture
Resource Person:
Prof. Ashok Jhunjhunwala
Institute Professor, IIT Madras, India
President, IITM Research Park, IITM Incubation Cell and RTBI
ashok@tenet.res.in
The recurrent theme throughout this introductory course has been the uniqueness of the AT domain in comparison with others and the resultant distinct challenges and opportunities that ensue. Froma niche area, AT needs to be brought to the forefront and thousands of youngsters and innovators must be encouraged to participate and contribute towards solvinglong-pending issues in the domain. India is a large market, and the volume of production can help bridge the gapin the nascent AT ecosystem, given R&D and commercialization happens in India.
Towards this, IIT Madras Research Park is bringing startups, industry, academia, and students together across the Assistive Technology ecosystem to make affordable, accessible, and quality indigenous AT products. We hope that you will join us in this one-of-a-kind effort to stimulate the AT ecosystem, by building high-quality solutions that solve the needs of persons with disabilities, towards a more inclusive world.